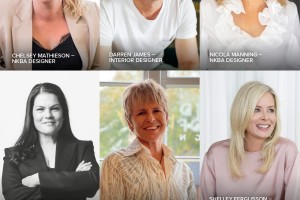 WHAT THE JUDGES WANT
On 27 May, NKBA judges will be coming together to consider the entries to the 2021 NKBA Excellence in Design Awards. And of course, the big questions on everyone's lips are – what do the judges want? Who will win? And why?
To give entrants an early insight, NKBA has asked the judges to breakdown what they are expecting from the process and what designs will have the edge…
The 2021 judges panel includes Darren James of Darren James Interiors, Nicola Manning of NM Design, Shelley Ferguson of Shelley Ferguson Studio, Chelsey Mathieson of Niche Design, Janice Kumar-Ward of JKW Interior Architecture and Ingrid Geldof of Ingrid Geldof Design.
Here's what they had to say…
What are you hoping to see at the 2021 NKBA Excellence in Design awards judging?
Darren: Unique, individual design concepts that cater specifically to the client's brief and that are supported by a complete and comprehensive documentation package.
Nicola: I am hoping to see exciting new concepts and design ideas, in terms of mixing different finishes and colours. I would also like to see new shapes and interesting use of new products and finishes.
Shelley: I'm hoping to see a lot of human-centric design, so designers are really thinking about people's habits in their daily lives and designing spaces with solutions to make lives that little bit easier. I'm also excited to see multi-purpose spaces that reflect how we use these areas for different activities. And of course, I can't wait to see beautiful design aesthetics!
Janice: Originality, site specificity and amazing detailing.
Chelsey: What I am looking for is practical design, but also innovation and creativity around it. It would be great to see designers push the boundaries of design, while still maintaining the practical and functional elements that make a space exceptional.
Ingrid: I would like to see well drawn and documented plans and elevations, so as to be able to produce the results achieved. Functional and safe spaces, with creative use of materials and sympathetic relationships with the architecture of the home.
Why do you think it is important to celebrate kitchen and bathroom design?
Darren: Kitchens and bathrooms are extremely valued rooms within the home that need to fulfill functional, social, and aesthetic requirements. To design, they require a creative and specific technical skillset that should be individually recognised in the design community. In a more current light, 2020 brought its fair share of challenges, so it's just nice to be able to shine a spotlight on the industry's amazing talent and our resilient creative community.
Nicola: Kitchens and bathrooms are central features to all homes. A well-designed kitchen or bathroom adds incredible value to a property from a financial, functional, and aesthetic perspective. They are also the most expensive areas in your home to renovate or build, so they need careful thought, great design, and smart use of materials and fittings to ensure the budget is met. There is so much complexity in both bathroom and kitchen design we need to celebrate those designs and designers that achieve well-designed, beautiful spaces that meet their client's brief.
Shelley: I truly believe that with great design these rooms change our everyday lives. We get joy from having a beautiful, functional, and cleverly designed kitchen, and the experiences that creates. And a bathroom that is restful and rejuvenating rather than purely utilitarian is the perfect respite from our busy world.
Janice: Both are vital, busy hubs in any home – bathrooms, and kitchens require intimate detailing that is innately personal to those living within the design. Celebrating design excellence – expertise centered around the user and their daily experiences is imperative to pushing for better design across the board.
Chelsey: These are the areas that really make a home. As people spend more time at home these days and also entertain more at home, there's a bigger focus on these spaces. More thought is invested in kitchens and bathrooms than ever before. It's just another reason why it's great to recognise and celebrate the brilliant designs.
Ingrid: The NKBA awards provide an incentive to produce outstanding work in every aspect of the design. It motivates enthusiastic designers to improve and keep evolving.
What trends do you think we will likely see in the 2021 entries?
Darren: The global pandemic has changed our lives and how we live in an extremely short period of time. I am interested to see how this has influenced and perhaps shaped / re-shaped kitchen and bathroom design in New Zealand over the last 12 months.
Nicola: I am excited to see how designers are using the ever-popular kitchen island and how they have applied new ideas to how these can be used and integrated with the rest of the kitchen. I am also looking forward to seeing luxurious bathrooms and how designers have created a combination of incredibly functional spaces with a sense of retreat and relaxation.
Shelley: I think we will see a lot of designs inspired by nature, as people seek to create calming spaces at home to contrast all the craziness in the world. I also think we will see an increase in smart kitchens and bathrooms, as technology has improved. In addition, I think we will see a mix of materials being used as clients get braver and designers have access to more custom products and production techniques.
Janice: Hopefully none – I am looking for originality and personality!

Chelsey: I'm expecting to see a lot more colour and texture, as well as extraordinary design features and interest in the space. There's also still a focus on timber and around natural materials and colour. I can't wait to see how this year's entries have interpreted the brief and their approach to detailing. I'll be expecting the unexpected.
Ingrid: More organic forms and continued use of natural materials like timbers and metals. Maybe we will see more greens used as well as textural blacks and off whites and soft warm greys?