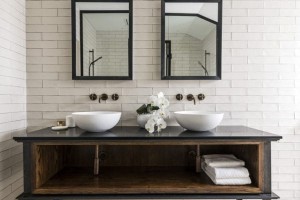 Could 2020 be the year of the bathroom? Year on year NKBA has a fantastic response from our design community with entries across the board from traditional kitchens to modern masterpieces. But one space in the home that we would love to see a lot more of, is the bathroom.
NKBA Executive Officer, Suzie Rees, says for those designers that love to work on bathroom design, this is their time to shine.
"Historically bathroom entries have been received in fewer numbers than kitchen entries. All of the designs are of the highest quality, and competition in this zone is stiff but we would love to see an increase in bathroom entries to drive greater competition amongst our designers," says Suzie.
NKBA judges agree, with Alice Lines, who is in her fifth year of judging, confirming it would be great to see more bathrooms entered in the awards and that great bathroom design is not to be underestimated.
"When life is busy and your days are full, your bathroom should be an oasis in which you can enjoy calming self-care moments at the beginning and end of each day."
Evelyn McNamara, Director of ema architects, who is the 2020 guest architectural judge, says that bathroom design needs to be about creating a sanctuary.
"Bathrooms are generally the first place we go in the morning and the last place we visit at night in the home. I believe they must offer a sense of calm and tranquillity."
For those members thinking about entering the 2020 NKBA Excellence in Design Awards, entries have been extended until Monday 15 June at 5pm.
Suzie Rees says there is no harm in members thinking a little strategically when selecting the category and the project they enter.
"We have popular categories that have many entries and others which are on the lower side. We know our members have designs that are worthy of awards but for many reasons aren't entered. It's my recommendation to take another look at your portfolio and get those entries in!" says Suzie.
The NKBA Excellence in Design Bathroom Awards include:
• Supreme Bathroom Design Award 2020
• Chapter Recognition Bathroom Awards 2020
• Creative Excellence Bathroom Award 2020
• Visual Impact Award 2020
• Lighting Design Award 2020
• Chapter Recognition Awards
• Creative Small Space Design Award 2020
• Outstanding Renovation Kitchen or Bathroom Award 2020
• Designer of the Year Award 2020
• First Time Entrant Award 2020
• CDS Bathroom Design Excellence Award 2020 (CDS members only)
To enter visit: http://awards.nkba.org.nz/