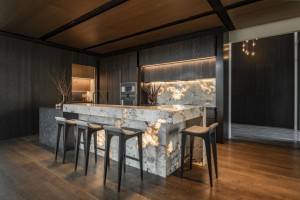 Davinia Sutton is no stranger to awards success. She has won Designer of the Year, Supreme Kitchen of the Year, Supreme Bathroom of the Year and countless other awards in her long and illustrious career. She has also been a judge of the NKBA Excellence in Design Awards.
NKBA and Davinia are great believers in helping raise the standards of the awards, while also supporting new and upcoming designers to achieve awards success. We know these tips and insights from Davinia will be a helpful guide when putting together your perfect entry.
Remove the fluff from your brief but still tell a story
Writing a good brief does not come naturally to everyone and there is some skill involved in being a storyteller, while also staying succinct. I start by going back to my initial client brief and then brainstorming what I want to say. Once I have a list of all my key points, I then put it into an organised order. Think about what you were trying to achieve with your project. Look at your photography and plans and consider how your brief can reinforce this material. Be precise and factual as the judges don't tend to enjoy floral language. If all else fails, you can outsource your brief writing to a professional. However, I suggest giving it a good go first and of course getting a colleague or friend to proofread your final copy before you submit. Ask yourself does it flow; does it tell the story, and does it answer the questions that judges will have.
Get the best photographer you can afford
Photography makes all the difference to an entry and is used long after an awards entry is submitted. Project photography can be used for media, social media and other marketing, it is worth the investment. I have been working with the same photographer for a very long time but if you are just starting out and looking for a new photographer to work with – make sure you look at their portfolio and the work they have done in the architectural/design space. There is a difference in a photographer that can successfully capture the essence of a kitchen or bathroom.
Other tips for photography include ensuring you spend the time getting things set up for the shoot, yes that includes styling, but it also means cleaning and clearing out. Take shots on your phone of the angles you like and show your photographer what features you want to capture and how. It's also really important to think about lighting. Visit your space at different times of day and decide what light is going to work best for the shoot. I have done many things over the years to get the light just right, including holding up sheets for hours on end and in some cases re-shooting to ensure we get the right shot in the right light.
My top tip is to do a bulk shoot. We organise a few days of photography with a variety of projects so we can be as efficient as possible. Dedicate your time to the process and don't be afraid to roll up your sleeves and get stuck in to ensure the space is 100%.
Consider your styling carefully
Throughout my career journey, I have realised styling for photo shoots is an important element of a good entry and greatly improves photography. Styling has to be space appropriate. For example, if you have a nice shower niche, buy some pretty bottles of soap or add a clothe to the frame. I actually carry around a box of props that I have been accumulating over the years. It includes candles, vases, fake plants and other items that I have sourced from lots of places including nursery gift shops, design stores, even the warehouse, Kmart etc. The reality is you can't tell a fake plant from a real one in a photo shoot, so it works for my business to keep a variety or false ones on hand to liven up a shoot. As mentioned, a big part of styling is cleaning. Make sure you have spotless glass, take the labels off appliances and polish stainless steel, straighten tapware and ensure everything is wiped down without streaks.
Improve your plans
I understand that there are lots of different drawing programmes and some can limit what you can do. However, you have to create plans to the absolute best of your ability. You need to take time to really study the rules of the NKBA Excellence in Design Awards programme – particularly around spatial guidance. Draw them again if you need to before you submit and get a peer to review your plans. As a judge, sometimes I have struggled to see where appliances are and that can lose an entry marks. Take pride in your work and if you want to win you need to understand that plans are worth a lot of points and can make or break an award-winning project when it comes to judging day.
Back yourself
Have confidence in your talent and ability and enter the awards. Back yourself to enter a few projects and invest in the awards programme. The awards have always been a big part of my marketing strategy and every year I use the awards as a strategic opportunity to raise the profile of my business. Give it a go, as an industry we are all supporting you and cheering you on.