Student Success
Education and professional development are at the heart of the NKBA. So, nothing makes us prouder than celebrating the achievements of students studying their NZ Diploma in Kitchen Design.
In 2023, we made a significant change to our awards and conference programme, which ensured student designers received special recognition at a dedicated Student Awards Event in Auckland as part of the NKBA Conference in August.
A two-hour cocktail-style event on the first night of conference was our chance, as an industry, to acknowledge the dedication it takes to earn the NZ Diploma in Kitchen Design and to submit an entry into the NKBA Student Design Competition.
Scholarships
As part of the celebrations, NKBA recognised three students with scholarships. Sponsored by Blum, Resene and NZ Panels Group, the winners received a scholarship valued at $5,500 which includes financial and mentoring support to help them succeed on their learning journey.
Congratulations to:
Penny Sharp
Josh Cooper
Amber Downie
Each of these students stood out for their determination to succeed in the kitchen and bathroom industry. It's clear that these winners are passionate about their work.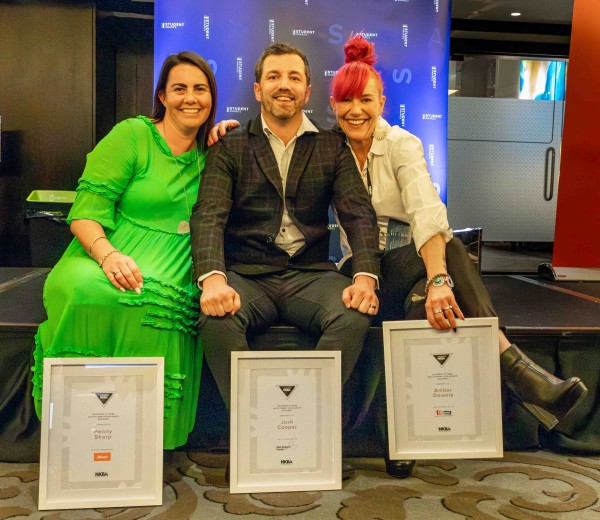 Most Promising Kitchen Design Student
NKBA are proud to support students alongside BCITO Te Pūkenga, with the Judy Bark Most Promising Kitchen Design Student Award. Honouring students who are highly motivated and enthusiastic, and who demonstrate outstanding knowledge, technique, and willingness to apply new skills, this award is based on recommendations from NKBA tutors and BCITO Training Advisors.
In 2023, we are delighted to announce the winner is:
Victoria Gaylard (Victoria Gaylard Design)
It was Victoria's first-time attending conference, and she was thrilled to receive the recognition from BCITO and NKBA.
"It's great getting up on stage and to hear the wonderful comments from the tutors. It's lovely to know you are on the right track with your study and design knowledge. I also got a lot out of attending conference. As a business owner, I greatly enjoyed the talks on business management and it was insightful to meet with suppliers, network and see what they have to offer. It's also important when you work as a sole operator to get out there and meet your peers and support your own professional development," says Victoria.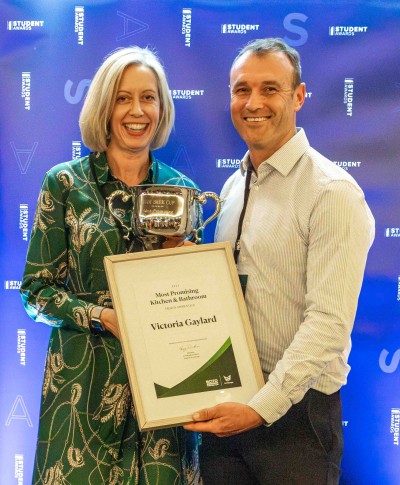 NZ Diploma in Kitchen Design Graduates
At the Student Awards event, NKBA was thrilled to recognise 28 students who have completed their New Zealand Diploma in Kitchen Design. The diploma is a big commitment, with many of the students juggling their studies with full-time jobs and family commitments. It is a huge achievement and one that is widely acknowledged and held in high regard by our industry. Well done to:
Alyssa Gonzáles
Ashleigh Jones
Brooke Hulston
Christine Dawson
Erica Tanner
Kate Blakeborough
Paula Comber
Sarah Burrows
Sommer Cook
Alana Shrimpton
Alison Withers
Anna Dick
Brooke Manera
Christopher Harris
Elena Feklistova
Erin Reynolds
Eslie Ferriera
Fiona Vidar
Grace Dear
Hayley Hohneck
Huntah MacDougall
Katie Forrester
Nicola Ross
Nichole Gordon
Nicole Smithson
Paige Hamilton
Sarah Harkness
Tawhiti Peakman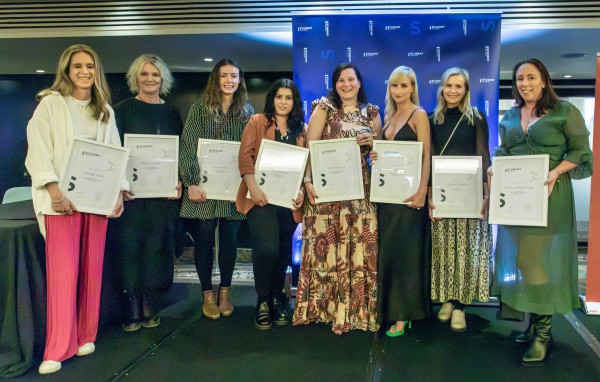 Outstanding Graduate
A new award for 2023 was the inclusion of the Outstanding Graduate award. This award recognises the student who performed to a consistently high standard across all four of the diploma assignments. Out of the incredible 28 graduates, a big congratulations goes to:
Brooke Hulston (Lume Design)
Brooke's tutors said that she submitted outstanding assignments, which were to a high standard and expressed dedication, diligence, and attention to detail.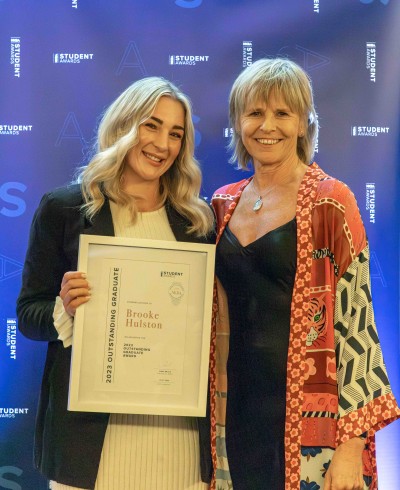 Student Design Competition
To conclude the Student Awards night, NKBA celebrated the winners of the Student Design Competition. Three awards were up for grabs: Best Concept Kitchen Design sponsored by Resene, Best Installed Kitchen Design sponsored by Blum and Best Technical Kitchen Plans sponsored by Hafele. The winners each receive a $500 cash prize. The 2023 winners of this hotly contested competition are:
Monique Morgenrood – Best Concept Kitchen Design
Anthea Allnatt – Best Installed Kitchen Design
Sushil Patel – Best Technical Plans
Caitlin Adams, Education Manager for NKBA, says the Student Design Competition winners all had one thing in common.
"What a delight it is to see detailed and professional technical plans. This is one aspect of the NZ Diploma in Kitchen Design that is a priority for students to focus on, and it is wonderful to see this skill transferred to these awards. We know that this understanding will enable these students to succeed in this competitive design industry. Congratulations to all the winners."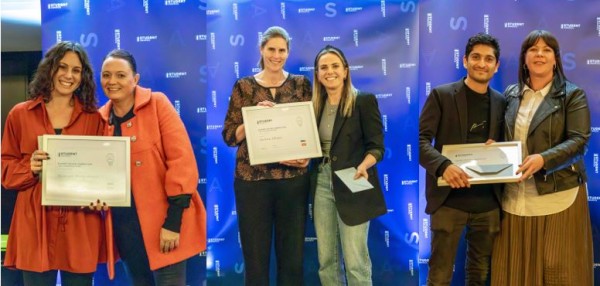 The NKBA Student Awards will be back in 2024. For any designer or joiner interested in pursuing a Diploma, please visit the NKBA website or contact the NKBA team.