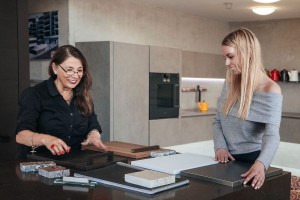 According to Milvia Hannah, education is the key to ensuring kitchen and bathroom design is viewed as a profession.
"What we want for the industry, is for kitchen and bathroom design to be valued as a professional career and education is a vital piece of that puzzle. Ensuring quality training courses and industry respected qualifications are available to all designers will absolutely change the industry for the better.
"Education has been a big part of my career, in fact I have spent more than a decade studying. It helped me become the first in New Zealand to earn a certified masters in both kitchen and bathroom design (CMKD and CMBD) – an achievement I am really proud of," says Milvia.
Milvia has been working as a kitchen and bathroom designer since 1986. She launched her successful business, German Kitchens, with her son Damian Hannah in 1991. In her illustrious career, the business has won 40 National and International design awards. Milvia is a Life Member of the NKBA and is also a member of the NKBA Executive Board.
Both Milvia and Damian have qualified through the NKBA Education Program and have qualified with the Diploma in Kitchen Design.
Ten years ago, Milvia began tutoring kitchen and bathroom design, in a move to give back to the industry she loves.
"I really enjoy shaping students and helping them to become better, more confident designers. My area of expertise, and what I tutor, is kitchen and bathroom aesthetics. This includes design principles, design elements and proportions. I help my students understand the rules around balance, themes and why some colours and textures are more pleasing to the eye than others. My goal is for students to walk out of my training with the confidence to design a kitchen or bathroom that fits, that truly belongs and marries with the home," says Milvia.