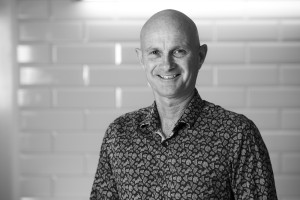 Mark Bruce began his career as a cabinet maker. This foundation in carpentry and design is what makes the owner of Beaver Kitchens and Designmarked one of the most respected kitchen and bathroom designers in New Zealand.
"What makes a great kitchen is not just the colours and textures, there needs to be a good understanding of spatial design. Spatial design is understanding how people move within a kitchen and what work zones and landing zones are needed to ensure the space works for the dynamics of the home and its occupants," says Mark.
The good news is, with the introduction of NKBA's New Zealand Diploma in Kitchen and Bathroom Design Level 5, Mark Bruce will be tutoring students on spatial awareness as part of the two-year qualification.
"Understanding the theory behind design can be taught. The designers who come through our training, gain a new confidence in their abilities. Quite seasoned designers don't know what they don't know. You could go through your whole career as a designer without a sound knowledge of spatial design. However, once completing this qualification you will not only cement your knowledge of aesthetics, but also develop a deeper understanding of kitchen and bathroom mechanics. It will take your kitchen and bathroom designs to new heights," says Mark.
Mark Bruce, a multi award-winning designer and member of the NKBA Executive Board, began tutoring 10 years ago. He believes education will ensure better design is available for everyone.
"Good design should be accessible to everyone. Whether a client goes to a high-end kitchen designer or a budget option, the price should not affect the layout. Budget will absolutely have an impact on the materials, colours and appliances available, but a well thought-out, well designed kitchen or bathroom should be assumed. This is where education is very important. No matter where you work or who you design kitchens or bathrooms for, if you are providing a service to a client you should be trained in delivering good design. This will in turn help to ensure kitchen and bathroom designers are seen as a valued and integral part of the design process and team," says Mark