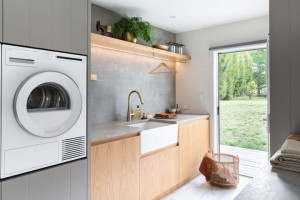 Two laundry rooms truly wowed the judges this year, demonstrating that it is not just the kitchens and bathrooms that pick up all the accolades.
Natalie Du Bois of Du Bois Designer Kitchens and Interiors received the 2020 NKBA Excellence in Design Spatial Innovation Residential Award for her work on a lifestyle laundry, while Gillian Flynn of Kitchen Inspirations won the Spatial Innovation Design Residential Runner Up Award for a utility room in the Waikato.
Natalie said that the laundry room often gets given the least amount of attention when we renovate. However, with this laundry, my clients wanted it to look just as beautiful as the other recently renovated rooms in their home.
The judging panel agreed with Natalie's approach saying that the space was most definitely not your standard utility room and a very pleasant room to fold washing.
"The laundry's folding table is genius and the panelling is gorgeous. We enjoyed the butler sink in a modern environment and the Caesar Stone splashback." They said.
Gillian received runner up recognition for an exquisitely detailed laundry that features a heavy antique washing folding table in the centre of the room.
Judges praised Gillian for her well-executed theme with beautiful traditional detailing.
"Judges liked the attention to detail, the design based around a piece of furniture, the practical lighting and the consistent approach that demonstrates care from the designer. They also greatly enjoyed the cool, screen grated doors that added a unique detail."
NKBA President, Nick Thompson, said that these laundry spaces confirmed that every room in the house should be valued and well considered.
"We absolutely love these laundries because they demonstrate the beauty that can be found in the most boring of spaces. Let's be honest, laundry is not exciting, and the utility room usually gets hidden or is a cheaply finished after thought. I say we change this! Let's get homeowners excited about the possibilities of their laundries. Thank you, Natalie and Gillian, for giving us all some fabulous examples."