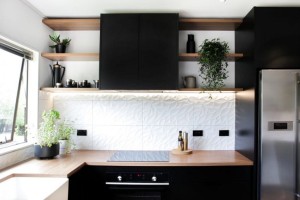 Wanting to see how her kitchen 'on a budget' would stack up, first-time entrant, Wai Mihinui, put aside any nerves or doubts and entered her mid-century retro style kitchen in the 2019 NKBA Excellence in Design Awards.
A few months later, Wai, of Kitchen Studio, was standing on the stage in Melbourne holding on to two NKBA Excellence in Design Awards. The first, the 2019 Kitchen Distinction – under $25k Award and the second, the Wellington Chapter Kitchen Recognition Award.
"It was amazing. It was an incredible night. I enjoyed the recognition and loved being able to spend valuable time with my peers in the industry," says Wai.
Designed for a home with architectural quirks from the 1960's, including arched doorways and peep hole openings, the aesthetics of the award-winning kitchen were of great importance to the clients. This was followed by their need for a kitchen that was delivered on budget.
The interesting thing about this kitchen was its good use of standard materials says Wai. A black and timber colour palette references the desired aesthetic, with melamine and Formica Laminate finishes selected for nostalgic and budget reasons.
"The kitchen was for a young family who loved the retro 60's and 70's. They pushed me to get creative and focus on visual impact, functionality and the modern and interesting use of materials," says Wai.
Wai decided to enter the NKBA Excellence in Design Awards after finding success at Kitchen Studio's in-house awards programme.
"I had been working for Kitchen Studio for several years before I decided to enter. But once I had received recognition in our internal awards, I found the confidence to put my entry into the NKBA awards programme. I was still nervous and only decided last minute, but I am so glad I did. Entering the awards has made a huge impact to my professional reputation and business.
"Winning an NKBA Excellence in Design Award has one hundred percent helped me attract new clients, it has helped with the promotion of my work and my confidence," says Wai.
So, what advice does Wai offer to other first-time entrants?
"First of all, you absolutely must give it a go and try not to doubt yourself. There is a lot of work involved to get your entry right so put aside some time to ensure you put your best foot forward. You also need to take time to get some great photography to complement your entry. Writing your entry will most likely take an entire day, particularly if you want to leave time to make edits and proof. Don't underestimate the time required," says Wai.
Not put off by the time it takes to get it right, Wai is entering the 2020 awards and can't wait to go through the experience all over again.
Be like Wai.