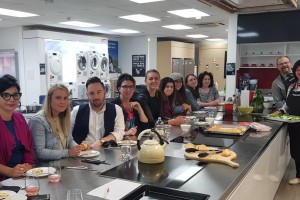 "You have everything to learn and nothing to lose." Nicola Ross – NKBA Member and Certified Kitchen Designer
Study at any point can be daunting, it's a big commitment and requires a desire to be better and go further. It can be even more intimidating when you are already working, have a busy home life or a family.
Two kitchen and bathroom designers who know all about this are Nicola Ross and Melanie John.
Nicola Ross of Mastercraft Kitchens by Healey began studying after eight years in the industry in 2016.
"I still remember my first day of study and thinking I have everything to learn. Materials and technology, it all moves so quickly. In order to stay on top of it and to make sure you are working at the top of your game you really have to push yourself. For me, education is one way I continue to progress and deliver," says Nicola.
Nicola received her certification in 2018 and is currently working towards a new qualification – the National Diploma in Design Level 5.
"Study is a big commitment, but it also helps you to become more efficient in the long run. You will speed up your processes, everything becomes easier and, in my opinion, you become a more desirable candidate for employers and potential clients. So, the time you spend studying is quickly paid off."
While studying, Nicola and Melanie joined NKBA as student members. Student members receive many of the benefits of full NKBA membership including attendance at NKBA events which offer great networking with designers, manufacturers and suppliers to the industry, product education events and industry opportunities.
Melanie John of Cube Dentro had been working in the design team at Mitre 10 when she decided to pursue study and join NKBA as a student member in 2016.
"By joining NKBA as a student member I was able to keep up to date with what was happening in the industry and connect with other designers at events. It also opened up a lot of good job opportunities for me, the industry is so small so often a lot of positions are filled through word of mouth."
Melanie won the 2019 CDS Student Design Competition at the 2019 NKBA Excellence in Design Awards. The competition is for students who are currently studying towards a National Diploma in Design Level 5.
"Having a student membership has been important to me as it has allowed me access to so many different opportunities in the industry. For the past few years I've been able to enter the Student Design Competition through my student membership which has been an awesome creative challenge for me and has really helped me to develop my design skills over the years. Events like the NKBA Conference and Excellence in Design Awards are also a great way to be able to connect with people in the industry and gain a lot more knowledge and inspiration from your peers. I've been able to talk to some amazing designers at these events and they are always willing to help," says Melanie.
In 2018 Nicola Ross became a full Designer Member of NKBA and in 2019 she became a professional member of the Certified Designers Society (CDS). She says that any designer who is considering study should just go for it.
"There is no time like now. I'm more designed focused than before, it has given me greater visibility in the industry and the support from NKBA, industry and other members has just been phenomenal. Just go for it!"