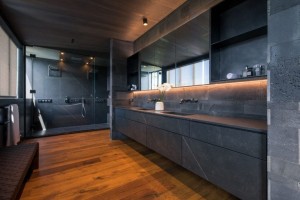 Canterbury designer, Angelique Armstrong of Armstrong Interiors, won the SUPREME Bathroom Design Award, the 2020 NKBA Creative Excellence Bathroom Design Award and the 2020 NKBA Excellence in Design Canterbury Chapter Bathroom Recognition Award for a dark and masculine bathroom design.
Located in Auckland, the master ensuite was eight by three metres with plenty of room to become a large, opulent space. The smallest details have been thought about, from the large double shower in bespoke gunmetal, the entrance glass doors and glass handles from Italy, to the vanity fronts, top and vanity basins fabricated out of Neolith Calatorao. The blue stone is honed leather finish which is cut and laid into random sizes and lengths. The freestanding bath sits on a pedestal floor of Neolith, with a heated pad to keep the stone bath hot.
NKBA Judges said it was a cleverly laid out and detailed bathroom space.
"The designer has thought about all the little things and the result is a supreme bathroom that wows. The judges were impressed with how the bath is bathed in natural light, the incorporation of successful built in storage and the nook on the vanity to store and display important bathroom essentials. A thoughtful and very cool space," said the judging panel.
The 2020 Supreme Bathroom Manufacturer Award went to Stone by Design for their work on this space.