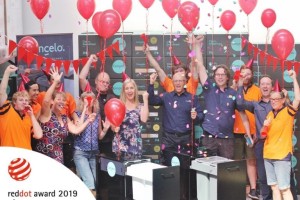 New Zealand owned and operated company, Hideaway Bins, places innovation at the forefront of everything they do. Having invested heavily in research and development since 2006, the company has grown in strength year on year as a result. Hideaway specialises in storage solutions for the kitchen, bathroom and laundry in both residential and commercial applications. Hideaway's most recent product to market was awarded the Red Dot for product design, the pinnacle award for a company focused on innovation.
Allen and Jamie Bertelsen, a father and daughter team, have been operating Hideaway since 2006. Together they bring a mix of strengths to the business, with Allen a Chartered Accountant and Jamie a sales and marketing professional.
In March 2019, the team at Hideaway won the prestigious international Red Dot Design Award for their Concelo kitchen waste bin. It was one of more than 5,500 entries submitted from 55 countries for the highly regarded international design competition based in Essen, Germany. Entries are judged by an international jury panel of 40 experts who only award the sought-after Red Dot seal of quality to products that feature an outstanding design.
Jamie says the company's investment in research and development has been a crucial part of their success.
"We came up with the design concept for Concelo in 2012. We understood at that time that our core strength was waste bin design and our goal was to design the best bin possible for the homeowner. In order to develop a product that could help us reach this goal, we gathered feedback from homeowners, as well as a small focus group of cabinet makers and kitchen designers who gave their time to provide feedback on early designs and prototypes.
"From this research we discovered the critical design elements needed. Some of the factors included the bin needed to operate like a premium kitchen drawer, it needed to mount at bench height and the back bucket needed to come out from the bench top independent of the front bucket, it needed to control odours, and it needed to be very easy to clean," says Jamie.
There were many hurdles Hideaway had to overcome on the innovation journey to achieve this vast wish list, including finding an international partner that was prepared to design and manufacture a unique synchronised soft close runner to meet the needs of this out of the box product design.
Many different runners were considered but none were equal to the leaders in premium drawers. It was a huge moment in 2016, when Hafele Schneider, located in Germany, jumped on board and took on the project. They developed and now supply the runner for the Concelo bin.
Hideaway now have six variants of the Concelo bin range and have new variants of the Concelo coming out in 2020.
Jamie says persisting with innovation isn't easy.
"It takes a huge amount of passion to come up with new ideas and to problem solve week after week, and year after year. It took seven years of research, development and testing but the result is a paradigm shift for a kitchen appliance that is used 20 to 30 times a day on average. This is something we are incredibly proud of and it was well worth the effort. We believe Concelo will ultimately change the way the kitchen design industry will look at rubbish management in the kitchen – a bucket in a drawer will no longer be good enough, as homeowners are far more aware of the need to deal with waste in a smart way."
Jamie and Allen meet weekly with their small Research and Development team to discuss projects and they have a full-time design engineer on staff. Essentially, Hideaway makes innovation a key part of their team culture.
"We are driven by innovation. To be innovative you must change your focus away from what you can do currently, to what is needed. In our case, we had to consider the homeowner and what they wanted, and not allow ourselves to be limited by what we were able to manufacture. Sure, it meant a large investment of time and money, but bringing products to the market that people want is how you truly innovate. Too often products are brought to market that don't hit the mark or even consider the user's experience," says Jamie.
To those who would like to be more innovative in their business, Jamie offers some advice.
"Spend around 80% of your company's research and development resource on improvements to your core business and current product lines. You can make big gains by being innovative in the areas you already operate in and understand. Spend the remaining 20% of your resource on your big hairy audacious goal and go after it! It will take a whole lot more money and time than you could ever anticipate, but the personal satisfaction of commercialising a goal of this size is personally very rewarding. I think it is simply about priorities. It is easy to get swept up in the day to day operations of a business but if you want to make innovation integral to your business you have to make time for it and prioritise it as an expense.
For more information on Concelo visit: https://www.hideawaybins.co.nz/products/kitchen/concelo/