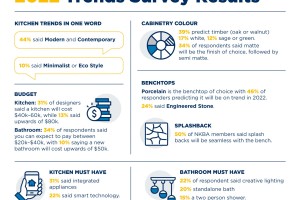 NKBA are excited to share the results of our annual Trends Survey. Sent out to our entire membership database, our Trends Survey is an opportunity for our designers to share their ideas and insights into what we can expect from kitchen and bathroom design trends in 2022.
The effects of Covid
With the construction industry booming, renovations and new builds are a common sight across New Zealand. 62% of NKBA members commented that they are busier than they were pre-Covid 19, with 72% of members saying they are most in demand for their kitchen design and manufacturing expertise – particularly for renovations.
Designer, Kevana Naidoo of Kitchen Inspirations in Auckland says that renovations have seen a spike for many reasons however she believes that working from home has inspired people to create a space they love.
"As more people work from home, they have discovered the importance of living and working in a space that reflects who they are and what they enjoy. I also think lockdowns have helped people to find a love of cooking and this has increased an interest in transforming kitchen spaces so they can enjoy cooking and entertaining at home," says Naidoo.
Kitchen Trends
So, what can we expect from kitchen design in 2022? According to the trends survey, timber is in style, in a big way.
39% of designers predict timber to be the most popular cabinetry colour of 2022, pushing white out of the top spot. The most popular timber colours were oak and walnut, however all natural timber finishes were considered on the up.
Siobhan Nolan of Lily and Forbes Interior Design in Christchurch, says that there has been a shift away from greys and whites as people select timber tones to warm up their homes.
"Natural products are a fantastic choice as they bring a real warmth and personality to a space. We use a lot of melamine products, but if budget allows, we like to utilise veneer if possible. Melamine options are getting more realistic with texture and colour tones. There is a lot of choice," says Siobhan.
In terms of finish for the cabinetry, 34% of respondents said matte will be the finish of choice, however textured is on the rise.
Mal Corboy of Mal Corboy Design in Auckland says textured is about the touch and feel of the product.
"What we like to see in a textured finish is a more natural, organic look and feel, with some definition to the veneer. Homeowners don't really want the ultra-sleek finish anymore, they want their kitchen to be more homely and natural, and this trend will continue to grow in popularity," says Corboy.
For the first time, porcelain is predicted to be the benchtop of choice in 2022. The ultra-durable material has been slowly rising in popularity over the years, and is now the preferred material for many designers, with 46% predicting it to be in every new kitchen in 2022.
Karen Harlen of Bays Joinery in Nelson says the majority of her kitchens in 2021 have utilized porcelain, and that she is even using the product in her own upcoming home renovation.
"There is a wide variety of finishes – from Industrial to Classical. This helps achieve the look you're after, keeping the same hard wearing, non-porous, temperature resistant surface without compromise," says Harlen.
The finish to many kitchens is the splash back, with more and more homeowners choosing to make a statement. For 2022, 50% of NKBA members said splash backs will be seamless with the bench.
Siobhan Nolan of Lilly and Forbes Interior Design in Christchurch, says a seamless bench to splash back is contemporary and high end.
"It means no grout lines which makes it easy to maintain and keep clean. It also gives people another way to display their beautiful stone and porcelain," says Nolan.
Kitchen Costs
Overall kitchen trends in 2022 will see modern and contemporary spaces reign supreme with integrated appliances and smart technology. And the price tag for this? 31% of NKBA members that responded to the survey said a kitchen will cost $40,000-$60,000, while 25% said they are able to create a space for $20,000-$30,000. 13% of respondents said a kitchen will cost upwards of $80,000.
Suzie Rees, Executive Officer of NKBA says that the large disparity between prices demonstrates that there isn't a one size fits all kitchen.
"Our NKBA designers and manufacturers design and build a huge array of kitchens at many different price points that meet the needs of the homeowner. It's really important that when working with a designer you are clear on your budget, but that you also understand that many of the kitchens you see in magazines and on Instagram are big budget with quality finishes and luxury products. It's about striking a balance between what you want and what you can afford," says Rees.
Bathroom Trends
For bathroom design trends, NKBA members say New Zealand can expect to see standalone baths, two person showers and creative lighting dominating the trends.
Kevana Naidoo of Kitchen Inspirations says creative lighting sets a mood and a tone for the bathroom.
"Many of us have had a tough few years and so we are looking for ways to de-stress and relax. Lighting has a big impact on your mood and how you feel. Through lighting you can make a bathroom softer and calmer. Ways to do this are through negative detailing, getting creative about how you soften the look with well-placed lighting and lights behind translucent materials," says Naidoo.
Bathroom Costs
And the cost of a new bathroom? 34% of respondents said you can expect to pay between $20,000-$40,000, with 10% saying a new bathroom will cost upwards of $50,000.
Wait Times
Now that we know the trends of 2022, what are the average time frames for delivery? As we all know, the construction industry is currently experiencing significant pressure due to supply and demand problems which is causing delays globally. Suzie Rees, Executive Officer of NKBA says that though New Zealanders are wanting to renovate or build immediately, they should expect delays.
"43% of our survey respondents said that the supply of materials and products from overseas was creating the biggest strain. 46% of designers said that clients can expect to wait at least 6-12 months for a new kitchen, says Rees.