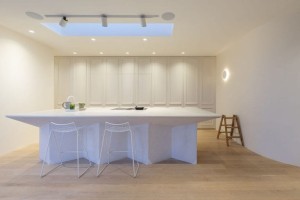 The 2020 NKBA Designer of the Year is Morgan Cronin of Cronin Kitchens in Auckland.
A long-standing member of NKBA and with more than 30 years' experience in the industry, multi award winner Morgan Cronin is highly deserving of this special award.
This year alone, Morgan Cronin has won seven NKBA Excellence in Design Awards for three remarkable projects.
Five out of seven gongs were in recognition for his work on an incredible, sculptural kitchen where the brief was for the space to look like a piece of art, rather than a kitchen. It won the First Runner Up – Supreme Kitchen Design Award, the Creative Excellence Kitchen Design Award, the Kitchen Distinction $80k – $100k Award, the Manufacturing Craftsmanship Award and the Auckland Chapter Kitchen Recognition Award.
The Judging panel said the unique, sculptural kitchen transformed a standard villa renovation.
"There has been so much thought into this incredible space, for a client whose joy is in entertaining, rather than cooking. The result is a lifestyle kitchen, perhaps not always the most practical, but one that pushes boundaries and celebrates an out-there concept with its completely customised, bespoke island. The judges applaud the designer for being bold enough to go all white and minimal. Judges enjoyed the unique pairing of the traditional back panelling with the sculptural form of the avant-garde island. A highly skilled execution of an extremely complex and technical project," said the judging panel.
Cronin also received a 2020 NKBA Excellence in Design Highly Commended Auckland Chapter Kitchen Recognition Award for a Queenstown holiday home. The brief was for a classically modern, family kitchen that would sit at the heart of a new holiday home with an island large enough to accommodate seating for up to five people. A separate drinks preparation and storage area was also required. He also received recognition for a modern, lodge-style holiday home kitchen located in Otago.
Judges described the space as having a luxe and moody look that is cohesive with the vibe of the home.
"The pallet is lovely, with visual interest and the kitchen works well with the gabled roof of the house," said the judging panel.
Well done Morgan!